There's no place better to get lost in the wild, to roam around without any traces of civilization for hours, even days, than eastern Serbia. A vast land of mostly uninhabited wilderness, very few towns and even fewer hotels, this is the kind of place that quickly makes you feel that you're thousands of kilometers away from home, and the unspoiled beauty of ancient ways very quickly brings a magical atmosphere to this adventure. Eastern Serbia breaks all your restraints and makes you experience a feeling of freedom hardly achieved elsewhere, while the natural beauty leaves you breathless.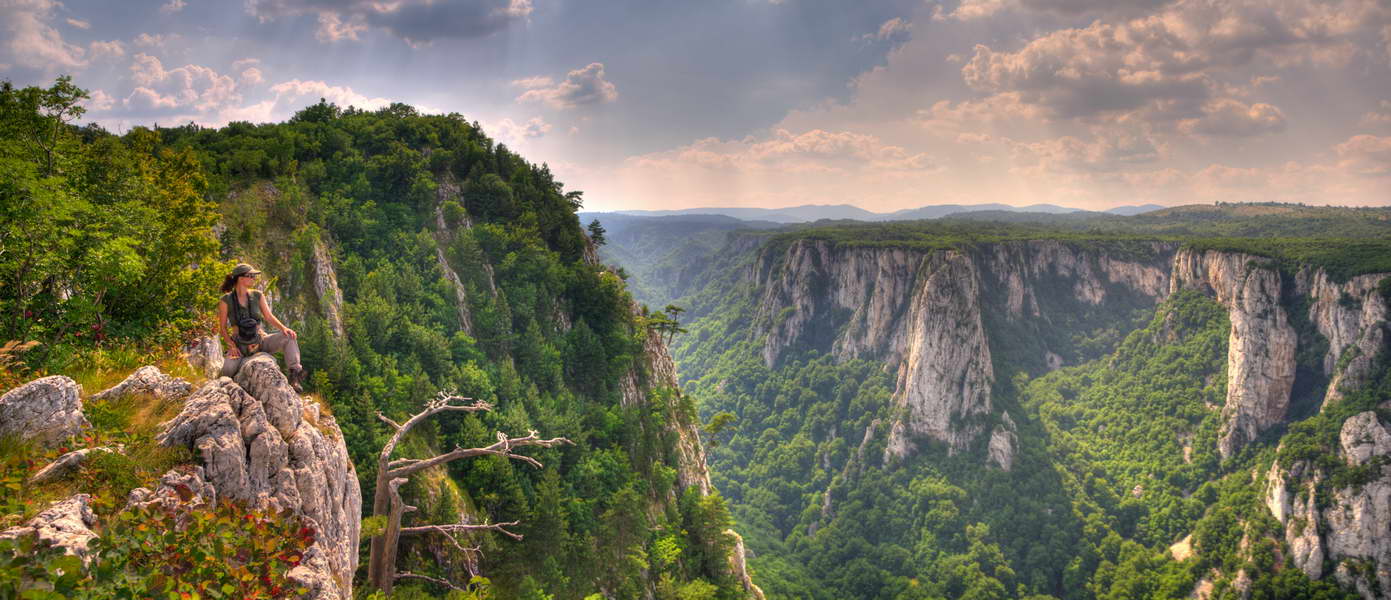 TOUR OVERVIEW

Price 80 € per vehicle / day
Wild camping (your own camping gear)
Duration 4 to 20 days (you choose)
Length 300 to 1.800 kilometres
From April to November
AT class tyres minimum, MT recommended
Protective covering recommended

Area for an eastern Serbian 10 day tour

(precise tracks available to clients)


This is perfect land for campers, for those who want to experience long nights by the campfire and walking barefoot on wet grass right outside your tent in the morning mist. There's nobody around to ask you anything, only pure nature and it's inhabitants – wolves, wild bore and deer, rabbits, foxes… and a few kinds of mythical creatures that make these forests so mystical. You can drink the water right from the streams, and you can explore freely, on forest roads that have in many cases been long forgotten. So, be prepared to push your Jeep through the bushes sometimes!

The allure of eastern Serbia takes time to reach your senses, but once it's inside, you never get rid of it, it's some sort of an incurable disease 😎 . It's hard to tell whether it's the monumental gorge of the Danube river, the Iron Gate and it's national park that is most impressive, or the fairy land of the Homolje mountains and it's hidden valleys deep in the forest, maybe the majestic Lazar's canyon, or the Beljanica and Kučaj highlands. Maybe the high peak of mount Rtanj that resembles a pyramid, or the huge range of the Old Mountain, with all of it's roaring rivers and countless waterfalls. It's probably all of that together, forming a Lord-of-the-rings-like image inside your head. The place where time stands still and you feel like you're in a whole different world.

Equipment of your vehicle depends on the trail difficulty of choice, but the minimum should be

at least AT tyres (5 of the same size)
a rooftop or classic tent
cooking and other equipment for food preparation
a shovel
a compact axe, and a saw
a can with at least 10 l of spare fuel
1 or more snake-ropes for recovery
CB radio

You should also consider

Protective sheets over your paint (forest roads in eastern Serbia are often very grown in)
Winch for easier recovery when needed
Additional camping gear (tables and chairs, etc.)

(vehicles with low gear are preffered for our 4×4 tours)

Tour preparation and execution

For most eastern Serbian tours you'll meet your guide in Belgrade, the capitol of Serbia, from where you'll head off together along the E-75 highway towards the off-road starting point of your route. Please secure that you have your travel insurance before starting the tour. At the beginning of the tour and every 3 days during the tour (approximately) your guide will lead you to a well equipped supermarket to replenish food supplies, and to a petrol station to refuel (make sure that you can cover at least 250 km with one full tank and additional fuel). Although eastern Serbia tours are basically wild camping tours, on some nights hotel accomodation is possible, if desired. The list of natural, historic and cultural points of interest that we will visit during the tour depends on your group's preferences (it will be defined in the tour planning process, and included with the prepared GPS tracks). Part of eastern Serbia that will be covered by your tour will be defined in direct communication with us during tour planning after we receive your application.

Tour price covers

one adequately equipped guide vehicle with our guide
all fuel and other expenses for the guide vehicle
personal counceling before and during the tour
appropriate GPS maps and data, that can be made available to the participants, if they have compatible hardware
permits for camping (where needed)
tickets for natural reservations entry

Tour price does not cover

individual fuel and toll costs
individual food and drink expenses
servicing expenses by third parties
hotel expenses (if not specified in the invoice)
other individual expenses

Application form for eastern Serbian tours
(please fill out to schedule a tour for your group)

Payment instructions will be mailed to you
upon reaching final agreement on tour details
Pictures speak louder than words... enjoy!