You've never seen a smaller country with more natural beauty. Rocky peaks of the Dinaric Alps reach more than 2.500 m of height in Montenegro, making the entire country look like a setting for the next adventure movie saga. The strong contrast between the cliffs present everywhere, numerous lakes of emerald colour, clear and raging mountain rivers flowing through the deepest and most beautiful canyons in the world, endless highland pastures where locals live with their cattle in a way unchanged for centuries - that is Montenegro. If you regard yourself an adventurer, you haven't lived if you haven't been there at least once in your lifetime.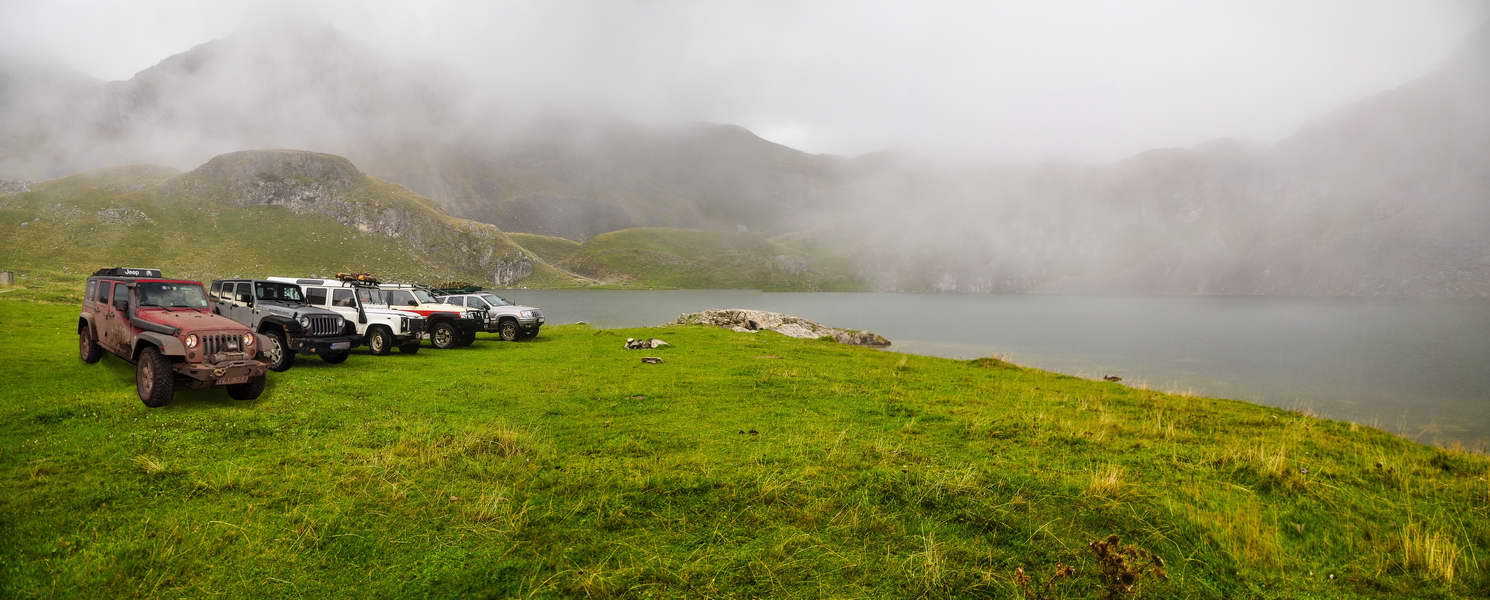 TOUR OVERVIEW

Price 80 € per vehicle / day
Wild camping
Duration 3 to 10 days (200 to 1.000 kilometres)
From May to October
AT class tyres minimum, MT optional

Area of our Montenegian 4x4 tours

(precise tracks available to clients)


Montenegro is a highland country with more than half of it's territory situated above 1.000 m of altitude. A small country, with an even smaller population of only about 500.000 inhabitants, it's safe to say that adventure tourism is the main direction of development. The pure and unspoiled nature is the main reason why Montenegrian government declared the country more than a decade ago an "eco-state".

Montenegrians are very proud people, with a strong traditional culture of nomadic life in the mountains preserved until modern times. They're famous for their specialties produced of cow and sheep milk – specific sorts of white cheese and other products unknown in the west.They're also very hospitable, and treat complete strangers with honour as dear guests.

Mountain lakes are an especially attractive place to camp in Montenegro. The most famous ones are in the Durmitor and Bjelasica national parks, but one which is especially popular among adventurers (and among the biggest in Montenegro), Kapetanovo (Captain's lake) is situated in Morača mountains at the altitude of 1.700 m. Not only that we're staying on the high mountain plateaus almost all the time while in the country, but we rarely get a chance to pass through any towns, making this journey one of the wildest of all our tours.

But if you also want to experience Montenegro in a more conventional way It is possible to continue all the way to the southwest, to the coast of the Adriatic sea, to combine the atmosphere and culture of highland and Mediterranean Montenegro.

Equipment of your vehicle for Montenegrian tour should include

AT tyres, MT optional
a shovel
a compact axe, and a saw
a can with at least 10 l of spare fuel (very important in Montenegro)
1 or more snake-ropes for recovery
CB radio

You should also consider

Winch for easier recovery when needed
A moderate lift kit (at least 2″)
(vehicles with low gear are preffered for our 4×4 tours)

Tour preparation and execution

For our Montenegrian tours you can either meet your guide in Belgrade, Serbia and travel to Montenegro by road together, or schedule a meeting point in some of the towns there (Pljevlja, Mojkovac, Kolašin, Žabljak). You should get there well prepared, keeping in mind that you won't get much of a chance to replenish your supplies and fuel very often (in some part of the tour you could spend up to 3-4 days without ANY town in sight). So spare fuel cans are mandatory there in order not to reroute the tour only to find a petrol station. The list of natural, historic and cultural points of interest that we will visit during the tour depends on your group's preferences (it will be defined in the tour planning process, and included with the prepared GPS tracks).

Tour price covers

one adequately equipped guide vehicle with our guide
all fuel and other expenses for the guide vehicle
personal counceling before and during the tour
appropriate GPS maps and data, that can be made available to the participants, if they have compatible hardware

Tour price does not cover

individual fuel costs
individual food and drink expenses
servicing expenses by third parties
national park tickets and taxes
other individual expenses

Application form for scheduling a Montenegro tour
(please fill out to schedule a tour for your group)

Payment instructions will be mailed to you
upon reaching final agreement on tour details
Pictures speak louder than words... enjoy!