Natural beauty of the Dinaric Alps features dramatic contrast between ancient forests, grassy highland plains, and alpine type cliffs. On this highland route we'll be crossing the world famous Tara canyon, visiting the Durmitor and Bjelasica national parks, Sinjajevina, the biggest highland plateau in the Balkans (avarage altitude 1700 m), and visit several lakes of breathtaking beauty, which will be a real feast for your camera lenses. We'll camp in places of holy silence and unspoiled nature, and see and taste the old ways of making cheese by Montenegrian mountain folk. It will be an immersive, overwhelming experience for all senses!

TOUR OVERVIEW

Duration - 10 days (September 16-25th 2019)
Price - 890 € per vehicle
Wild camping (your own camping gear)
Approximate length - 1200 km
Technical difficulty - easy to moderate
AT tyres recommended, MT optional



Booking 2019 tours right now!

Tour coverage

Watch the Montenegro highlands videos:

During the tour we'll mostly be sleeping on nice natural campsites in total wilderness, often near lakes, at altitudes between 1300 and 1800 m, so prepare warm clothing – even at mid summer at those altitudes nights can be cold. On two nights we will be in official camps. Our average time of arrival to campsite is between 17:00 and 18:00, and morning departure time is usually between 8:30 and 9:30. Montenegro is a country rich with wildlife (including wolves and bears), but no attacks on campers have been recorded, so you can be relaxed. To make camping more comfortable, you should have folding tables and chairs, as well as cooking equipment for food (although you can also use campfire), mobile refrigerator (12 V), etc. In Žabljak and Bjelasica there will be a possible bungalow or hotel alternative to camping – we'll consult the participants of the tour and, if you want to break the camping routine for a day or two, we can arrange to take rooms (not included in the base price of tour).

Equipment of your vehicle for Montenegro Highlands tour should include

AT tyres (MT is also ok)
a shovel
a compact axe, and a saw
1 or more dynamic ropes for recovery
complete personal camping equipment
12 V fridge and additonal equipment for preparing food
CB radio

You should also consider

Winch (always a handy peace of 4×4 equipment)
A moderate lift – at least 2″

(vehicles with low gear are preffered, but not mandatory)

Tour price covers

one adequately equipped guide vehicle with our guide
all fuel and other expenses for the guide vehicle
personal counceling before and during the tour
appropriate GPS maps and data, that can be made available to the participants, if they have compatible hardware

Tour price does not cover

individual fuel and toll costs
individual food and drink expenses
servicing expenses by third parties
camping fees in official camps (usually around 5 Euros each for vehicle, every person, tent and electric connection), or hotel accomodation, if used
national park entrance tickets (2-3 Euros per day/person)
other individual expenses

Take a look what our tour in 2016 looked like!

Tour preparation and execution

The meeting point will be in the town of Pljevlja, in northern Montenegro. The coordinates of the meeting point are listed in the tour description by days, and we will timely supply you with a GPS track how to reach Pljevlja from your hometown, as well as the phone number of your guide. Please secure that you have your travel insurance before starting the tour. We expect you to arrive with a vehicle in good technical conditon, which can endure ten days of moderate offroading. This tour does not require a high level of offroad experience and skills. There will be parts of the tour when we won't have a chance to refuel for several days so you should have a fuel tank (optionally with additional fuel cans) that can guarantee covering 300-350 km without visiting a petrol station. All major credit cards (Visa, Master, Maestro, etc.) work in Montenegro (either on ATM machines or for paying goods), and the official currency in Montenegro is Euro. You're advised to have at least a small amount of cash for small expenses in the mountainous areas.

Average tour difficulty is easy to intermediate. In practice, that means that we will be travelling on decent quality dirt roads most of the time, with only occasional chances of encountering mud. There will be parts of rocky terrain, where care should be taken not to damage vital parts of the underbody (especially where we take shortcuts completely offroad, it's necessary to watch out for concealed rocks in high grass). We will not have any deep water crossings on our route (so no snorkel is necessary). Our operational communication during the tour will be on CB radios (we mostly use channels 5 or 16 FM). Please ensure that you have a EU standard frequency range AM/FM CB radio, and not the special frequency shifted ones that are used in some countries (mainly in eastern Europe).

For more details please consult the 4×4 addendum to the Terms and Conditions of Rustika Travel.
Application form for the Montenegro highlands tour
(please fill out to reserve your place in the tour)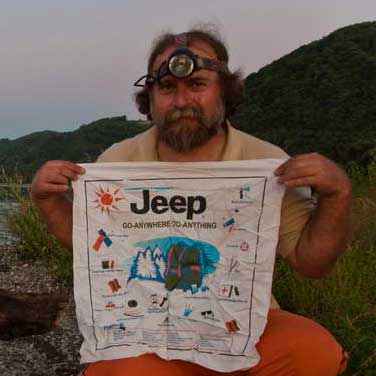 Payment instructions will be mailed to you
upon reaching final agreement on tour details