People were living in or around this city for more than 8000 years. In the center of Belgrade, under the present palace Albania during its construction in 1938 were found the skeletons of Neanderthals, who died in battle with mammoth, whose skeleton also was found in the vicinity. So we can freely say that the area of today's city of Belgrade was inhabited back in prehistoric times. Belgrade ( Beograd ) or ''White city'' was and is the most important city in South-Eastern Europe...

B
elgrade – the city of culture, inspiration, sports and leisure, festivals and music, best nightlife and entertainment… an inexhaustible source of energy. Belgrade Glamour at the crossroads of the European revival celebrates a diverse mix of culture, architecture, the natural combination of oriental passion and European refinement. Belgrade is very much alive and full of positive people, energy, love, joy, smiles, sights and sounds. Belgrade is a city that makes everyone come back with a reason!
Belgrade by bus
Panoramic city tour of Belgrade includes the following sites: "Saborna Crkva" – "Konak kneginje Ljubice" – "Zeleni venac" Square – "Terazije" Str. – "Nikola Pasic" Square – The Assembly of The Republic of Serbia – "Kneza Milosa" Str. – "25th of May" museum – "Autokomanda" Square – "Sveti Sava" Temple – "Slavija" square – "The Republic" square. Walk down trough Skadarska street, well known as bohemian part of city, a short break in restaurant "Čardak" for refreshments with local drinks. After Skadarska Street short ride to the "Kalemegdan" fortress.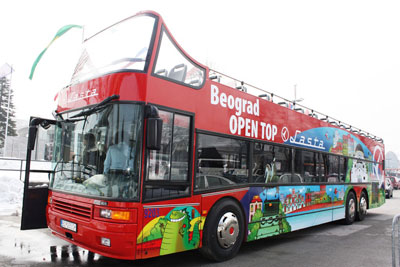 Belgrade is a city that is changing and developing at an accelerated pace. A city that welcomes everybody. A city that leaves nobody indifferent.
Belgrade rakia tour
One old unwritten rule says: "If you want to meet with the city and the people in it You will taste local food and local drink". This local drink in Serbia is called "rakija". Belgrade Rakia tour is excellent opportunity to experience the special bohemian atmosphere of Belgrade. This tour gives You a chance to taste several different types of this local drink, made from fruit grown in Serbia, served with specially made snacks tailored to each type of this local drink. The whole experience is located in one of three "Rakia" bars specialized only in serving this local drink. Unless You taste this local drink, You will not understand city and people in it.
So TASTE IT!