September 23rd - October 5th 2018
August 4th - 16th 2019

The Balkans peninsula is the last oasis of unrestricted 4x4 overland travel in Europe. It's wild and beautiful mountainous terrain harbours some of the most picturesque and dynamic offroad trails, many of which were previously known only to smugglers and local shepperds. They reach more than 2500 m in height, descend into the deepest canyons, cross mighty rivers, and pass through muddy mazes of virgin forests in a way that represents a true adventure you'd normally have to search for in the distant corners of the world. But this is a nomadic quest you can experience in the heart of Europe!

Balkans Wild Tracks
(September 23rd - October 5th 2018
August 18th - 30th 2019)

Duration - 14 days
Wild camping (+ 2 nights in hotels)
Covering approximately 1.500 km
Difficulty - moderate
Tour price per vehicle with driver - 1.200 € (passengers pay 150 € each)
Payment instructions will be mailed to you upon registration


Taking registrations for 2018 and 2019 tours now!

Approximate area of the tour

(precise track available to participants)


A true Balkans overlanding camping adventure circling 3 southernmost countries (Greece, Albania and Macedonia) and putting you and your vehicle to the test by giving you daily challenges! Camping in fantastic remote wilderness spots, with a survivalist attitude.

We'll meet in the harbour of Igoumenitsa on the starting day of the tour (there is a ferry from Ancona in Italy to Igoumenitsa) in Greece, and head straight toward the rugged and wild mountains of southern Albania. First week of the tour will be devoted to crossing Albania and Macedonia, while in the second week we will return to Greece, and make a mesmerizing journey across Pindos mountains. The roundtrip will end exactly where we started – in the port of Igoumenitsa, where you can use your return ticket to easily reach Ancona and be half way to western Europe by the next morning (the price of a return ticket Ancona – Igoumenitsa – Ancona is the same as one-way ticket).

During those two weeks we will drive through landscapes of breathtaking beauty, on trails that are at moments challenging, stretching over vast uninhabited areas, We'll cross several rivers on our way, drive through sandy riverbanks, as well as conquer some very rocky mountain trails. We'll navigate muddy paths deep in the ancient forests of south Balkans. In Macedonia we'll reach heights of 2600 m in the mountains (Pelister summit). Throughout the tour we'll camp in remote wilderness areas far from any sign of civilization, free from restrictions and rangers. The dynamic, everchanging landscapes will make this a true offroad adventure, which is guaranteed to fulfill every true overlander's dream!

Video from the Albanian part of Balkans Wild Tracks 2016

Video from the Macedonian part of Balkans Wild Tracks 2016

During the tour we'll be sleeping on nice natural campsites in total wilderness, often near rivers, streams or lakes. Our average time of arrival to campsite is around 17:00, and morning departure time will be around 9:00. Athough these are wild and remote areas, risk from wildlife is only theoretical, so you can be relaxed during camping, requiring no extra protection. However, you're advised to have warm clothing and warm, good quality sleeping bags, because in the high mountains temeperatures can drop to single digits during the night (our average campsite altitude will be in the range 1200-1500 m). To make camping more comfortable, you should have folding tables and chairs, as well as cooking equipment for food, mobile refrigerator (12 V), etc. Twice during the tour we will sleep in some discrete, out of the way hotels (included in the price of the tour). We'll stop for resupplying food and fuel every 2-4 days of the tour (whenever our trail passes by a town). The participants normally prepare their own food during the tour, but on occasions there will be an opportunity to eat in restaurants.

Minimum requirements for Balkans Wild Tracks

AT tyres recommended, MT optional
a shovel
1 or more kinnetic ropes for recovery, and (at least) 1 shackle
camping gear (a rooftop or classic tent, or conditions to sleep inside the vehicle)
basic tools for car repair and maintenance
insurance green card (required for Albania and Macedonia)
CB radio

You should also consider

Protective sheets over your paint (in case you mind contact with branches)
A moderate lift – makes you more relaxed and safer when crossing obstacles
a winch – speeds up and simplifies recoveries, if you get stuck

Vehicles with low gear are mandatory

We expect you to…

Be flexible and relaxed – it can be helpful in handling unexpected events, such as route changes due to weather conditions or damaged trails, vehicle breakdowns or other event beyond our control. We will be thankful for your help in the daily preparation of the campsite (gathering firewood, building the fire, setting up stuff, etc.), as well as your readiness to help fellow overlanders in solving problems on the trail.
Understanding and tollerance is the key to building a good mood on the tour!

As the tour time approaches, we'll supply you with detailed access instructions to our meeting point in the Igoumenitsa port, including necessary coordinates and GPX/KML tracks. You will meet our guide in Igoumenitsa harbour as you arrive (we assume) by the ferry from Ancona, Italy (the shortest route from western Europe). Please secure that you have your travel insurance before starting the tour. We expect you to arrive with a vehicle in good technical conditon, which can endure two weeks of serious offroading. This tour is not for total offroading beginners – experience will help you in many tricky situations. During the tour a chance to refuel will be available each 250-300 km (petrol and diesel everywhere, in some places also LPG). All major credit cards (Visa, Master, Maestro, etc.) work in the three countries along the route (both on ATM machines and for paying goods), but it's advisable to have a small amount of cash for small expenses in the mountainous areas. Albania and Macedonia use their own currencies (LEK and Denar), and the official currency in Greece is Euro.

In case you can't continue the tour due to a serious defect on your vehicle, we will do our best to connect you with skilled mechanics who may be able to repair the vehicle quickly on the spot or in nearby workshops (at your expense). In case you have to be delayed for some days due to a lack of parts, we will supply you with a new meeting point along our route, so that you can rejoin the tour when your vehicle is functional again.

Included in the tour price

dual GPS navigation systems in the guiding vehicle(s)
two nights in double rooms in hotels (if you're travelling alone, you can have a single room for an extra charge of 20 € per night)
all fuel and other expenses for the guiding vehicles
personal counceling before and during the tour
appropriate GPS maps and data, that can be made available to the participants, if they have compatible hardware
technical assistance in tricky situations by the guides

NOT included in the tour price

individual fuel and toll costs
individual food and drink expenses
servicing expenses by third parties
individual accomodation expenses before and after the tour (on your way to Igoumenitsa)
ferry Ancona – Igoumenitsa – Ancona
other individual expenses
Application form for Balkans Wild Tracks tour
(please fill out to reserve your place in the tour)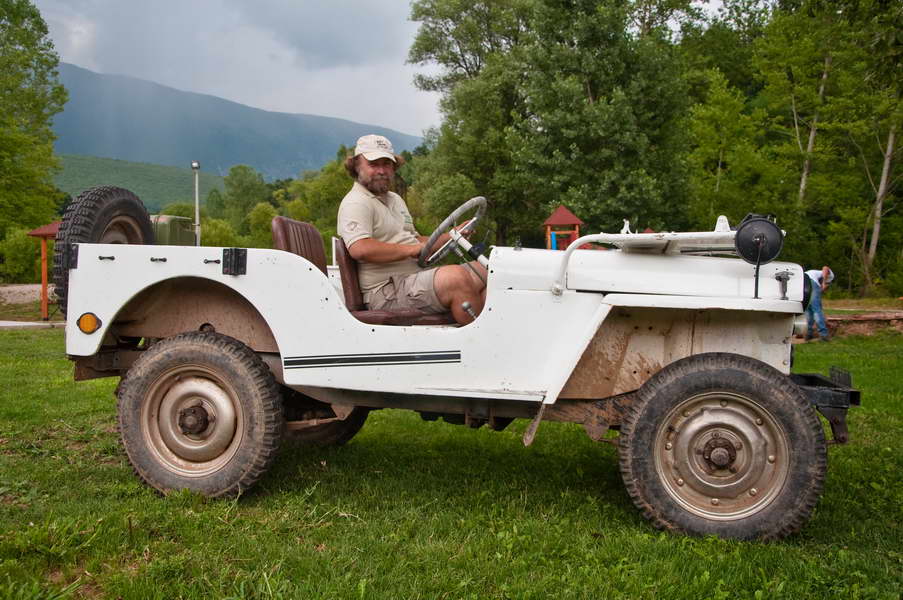 Payment instructions will be mailed to you
upon submitting your registration